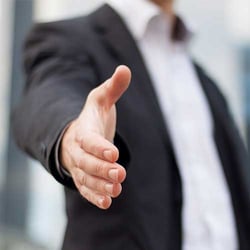 Finding the right fit for your organization's self-funded claim audit is as important as the audit itself. Your audit firm should work closely with you through your entire audit process to give you the best possible outcome. If you can't trust your teammate, or you know they don't have your best interest in mind, it's difficult to work with them productively. Choosing to partner with CTI gives you the only teammate you'll ever need for your healthcare audits, and you'll never have to question our loyalties.
Transforming from TPA
CTI's founders were deeply rooted in third party administration in the late 1980s. In fact, they were responsible for creating, managing and ultimately selling what became one of the largest TPAs in the Midwest. But it was taking that next step, and expanding on their experiences and lessons learned, that led to the formation of CTI in 1990. This experience being audited as a third party administrator (TPA) gave them the unique and pioneering insight into the insurance auditing world. Most specifically…it was the insight into the key components that were obviously missing from a successful audit process at that time. By experiencing the missing links at the TPA, they were able to easily identify what was needed to take healthcare auditing to the next level. In short, they saw all of the other approaches and decided it was time to lay track for a better healthcare audit solution. This passion for bettering the system as a whole and your business specifically has since been passed from founders to employees as CTI works to find your money lost due to errors and keep it in your wallet.
(blog post continued below)
Building Blocks
There were several aspects of insurance audits that CTI found crucial to a healthy audit process. The most critical of the missing building blocks, which we found lacking in all other firms, was the need for useful management tools to better administration of the plan at its foundation. This improvement in administration quality carries an immense impact on your bottom line because it reduces the number of errors being made at the time the claim is adjudicated. With fewer errors, you get to keep more of your dollars before you ever give them away.
Laying a Firm Foundation
When you're building something to last (a skyscraper for instance), you put a lot of thought into its foundation. Using sub-quality materials yields a building that crumbles under its own weight. With this in mind, CTI audits use continuous quality improvement (CQI) to build upon findings from the audit process. This is one of the many facets of our audits that differentiate us from our competition and gives your business an edge as you move forward with your self-funded plan.
CQI is the management philosophy that provides recommendations which allow self-funded insurers to manage and improve their administration. It's a means of providing administrative measurements, operational definitions and numbers by which businesses can measure their TPA's performance against that of others in the industry. With each CTI audit, a ranked list of potential CQI opportunities highlights areas in which you capitalize on your investment, making your process more efficient and saving you money in the process.
Every Line Every Time
100% electronic screening means that every single line of every single claim is looked at during your audit. After every line has been examined, we use targeted sampling to take a closer look at claims that are particularly troubling and identify why these areas need more attention. We also use this sampling method to take a closer look at aspects of your audit that need more attention, for example Medicare claims or accounts with high spend. This approach is proven to augment the quality of your audit, and gives you the insight you need to make informed enhancement decisions for your company.
Random sampling is one way that we verify the results we've found during your insurance audit and check for consistency. It means that every claim has an equal chance of being selected for closer examination. By combining this sampling technique with targeted sampling, we're ensuring that particularly troublesome areas are addressed, while not neglecting the remaining claims as a whole.
Our Secret Weapon
Using our proprietary software, every line is combed through and examined, reducing the chances of a missed opportunity to save your money from slipping through the cracks. Not only do we find your missing money, but we also pinpoint exactly where it went and how it got there. Using this data, we're able to provide you with a prioritized list of potential improvements you can make to your administration process to be sure that your money is not wasted.
Why CTI?
The final piece of your CTI audit, and our key differentiator among competitors, is our dedication to applicable CQI. We're not here just to give you an audit and send you on your way. Our commitment to you is for the lifetime of your business.
The purpose of a CTI audit is of course to save you money. By getting your administrator on the same side of the table as you, we not only save you money now, but also in the long run by facilitating a cooperative relationship among all parties. A CTI audit is more than just a healthcare audit. It's a commitment to bettering your self-funded insurance plan for your bottom line and your employees. Learn how you can get an audit with us today!