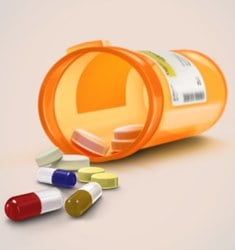 Of all the major advancements in modern medicine, perhaps none is more fascinating – and promising – than the evolution of pharmaceuticals. Prescription drugs have gone from being a complementary component of treatment regimens to, in some cases, being the only treatment. The total number of prescriptions filled by Americans of all ages has increased by 85% over two decades. Accordingly, the money spent on prescription drugs has also increased. CMS estimates prescription drug spending is growing at the fastest rate of the major sectors of healthcare, averaging 6.3% for 2017 through 2026.
In fact, prescription drug spending, particularly in government programs, has reached near crisis levels. The issue is so important that President Trump announced a major initiative, American Patients First, aimed at reducing the high costs of prescription drugs. The Department of Health & Human Services (HHS) Director Alex M. Azar II summed it up nicely, "The United States is first in the world in biopharmaceutical investment and innovation…We have access to the greatest medicines in the world, but access is meaningless without affordability."
So what does this mean for plan sponsors? It underscores the critical importance of benefit cost containment. In this regard, your choice of a Pharmacy Benefits Manager (PBM) and its performance become more important than ever.
Here's where CTI comes in. Our pharmacy audits will help you ensure you are obtaining – and receiving – all the savings to which you are entitled. Our Audit includes the following components:
Pricing Audit – is your PBM obtaining the most favorable pricing possible and adhering to the terms of your agreement? CTI will find out.
Plan Design Audit – CTI will determine if your pharmacy claims are being administered according to your plan documents. We'll also let you know if your plan documents could be improved.
Rebate Audit – CTI audits your PBM's rebate processes to ensure it is obtaining all possible rebates and remitting the full amounts back to you.
Operational Review – During this audit phase, CTI reviews your PBM's workflow and processes, including data security; HIPAA compliance; and Fraud, Waste, and Abuse (FWA) deterrence.
Contract Review – Strong contract language is the best cost-containment mechanism a plan sponsor can have. We'll identify areas of weakness and make recommendations to strengthen your contract terms.
CTI can conduct a pharmacy audit in concert with a medical audit or as a standalone. Click the Talk with Us button below for more information. We look forward to helping you protect your plan's interests.